Our Team
Most people are tired of paying for insurance they don't understand. We simplify and custom fit your protection so you can get on with life, knowing we've got you covered.
We only use top quality insurance companies that we have tested and proven by experience to pay your claim promptly. Our goal is not to just write you a policy, we want to get you the right coverage, and keep you happy for many years down the road.
If you suffer a fire, wind or other damage to your home we will send our local adjuster to help you promptly inspect and take care of your claim.  If you have an accident in your covered vehicle with us, we will work with you at your convenience to inspect the damages and get you restored back so you can go on with your life. We have claims adjusters in your area to assist you when you need us most.
---
RANDY SPARKS
Enjoys mission trips, motorcycles, Founder and President of Sparks Insurance
Randy started Sparks Insurance 36 years ago in 1983. He has six children ages 19 to 37 with his wife Debra along with two grandchildren. They attend NorthStar Church. Randy enjoys mission trips to Central America, riding his Harley Davidson, biking, swimming, hiking in the Smoky Mountains and the Gulf Coast beach. He has never been a big fan of cats but somehow, his sweet wife Debra convinced him that they needed two cats. Randy is sure one of the cats "Harley" is a dog in a cat's body.
---
FAYE BEAN
Love of sports, the lake, and Customer Service Agent
Faye@SparksInsurance.com
I have been with Sparks Insurance for over 33 years and have helped to partner with over 15 agencies in our Dani Network and Sparks Family LLC. I was married over 56 years and have 3 Children and 6 Grandchildren, and 2 Great Grandchildren. I have 2 dogs that keep me busy and take up a lot of time and are the best companions that a person can have. I enjoy lots of different sports such as Golf and Football, I follow Tennessee Football and Basketball and Notre Dame Football. I love boating on the lakes of East Tennessee and looking at all the beauty around me that the Lord has given us.
---
SHEILA RADFORD
Grandmother of 2 sweet boys, Customer Service Agent and Bookkeeper
Sheila@SparksInsurance.com
Sheila has been with Sparks Insurance 30 years working as bookkeeper and agent. She has enjoyed the years working at Sparks along side her mother Ms Faye. She has 2 sons, Josh and Scott. Also, enjoys spending time with her grandsons and husband Steve. They have been married 38 years and love spending time with all of the family. She completes her family with Whiskers the cat.
---
AMBER BLAIR
VFL, TV junkie, and Customer Service Agent
Amber@SparksInsurance.com
Amber began her career at Sparks Insurance in 2004. As a young child she enjoyed coming to work with dad and learning how the insurance agency worked. She is married to her best friend and they have two beautiful children. She enjoys volunteering at OneLife Church and serving her community. She loves trips to the beach as well as visiting the beautiful Smoky Mountains. She is a huge fan of the Tennessee Volunteers and loves when football season is in full swing.
---
MADDY DAVIS
Dog Person, Foodie, Receptionist
Maddy@SparksInsurance.com
Maddy began working at Sparks Insurance in 2015 as a receptionist where she quickly gained a passion for insurance and soon became a licensed agent. She was born and raised right here in Knoxville and attended Hardin Valley Academy. She is married to a loving husband, Michael, with whom she shares 3 spirited daughters; Rebecca, Alyssa, and Jeanie as well as their two dogs; Hank & Rousey.
---
JOE NUNNALLY
Avid bowler, retired twice, and Auto Insurance Agent
Joe@SparksInsurance.com
Joe joined the Sparks team in 2012. He attended college in 1961 at the University of Tennessee and Maryland. He was licensed in insurance in 1966 and started his own business in 1970. He and his wife Becky worked together in their agency for 30 years before he sold it. He and Becky have two sons, Todd 44 and Shawn 39. He has one daughter-in-law and 4 grand dogs and 2 grand cats. He is a devoted bowler averaging between 190 and 200. Joe is a news talk radio and TV enthusiast and loves to spend time expressing his opinions.
---
TERESA VACCARO
Customer Service Agent, Enjoys spending time with Family, Friends, and Church
Teresa@sparksinsurance.com
Teresa has been in Customer Service for 33 years but in insurance for 6 years and an agent for 2 years specializing in Auto and Home. She is a loving mother of 3 girls, grandmother of 2 girls and several foster grandchildren, 2 small dogs and a cat, all of which she loves and adores spending time with. She is a member and assistant Sunday school teacher at First Free Will Baptist church and enjoys going on vacation to Florida to visit her family and the beach.
---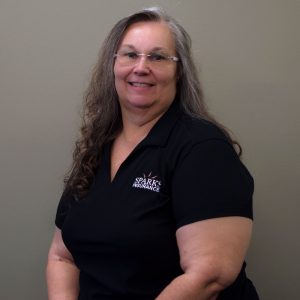 Paula Abner
Customer Service Agent, Commerical & Personal Lines
paula@crossvilleinsurance.com
Paula Abner has been with Sparks Insurance for 3 years but brings a total of 22 years of insurance expertise with her. She has been married to her husband Brian for 15 years and has a son named Micah. She has also welcomed her mother Almeda into her home. Her family attends church at First United Pentecostal, spend time with her family, watch classic films, and cheer on the Volunteers or the Michigan Wolverines.
---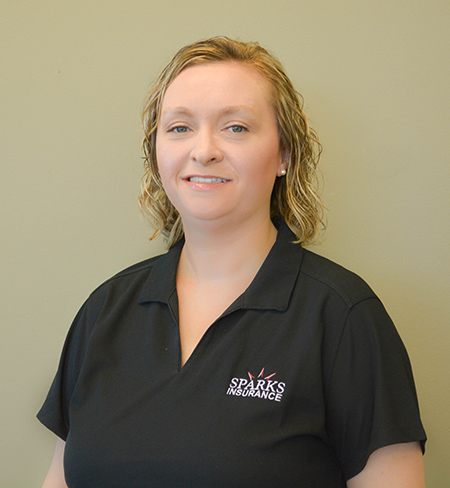 Natalie Howard
Musician, Writer, and Customer Service Representative
natalie@sparksinsurance.com
Natalie joined the Sparks team in 2017. She attended Tennessee Wesleyan University. She enjoys speaking, leading worship, and writing devotional and encouragement material for her personal blog and social media ministry. She loves to spend time with family and friends over a mocha frappe or an evening in with a good book.
---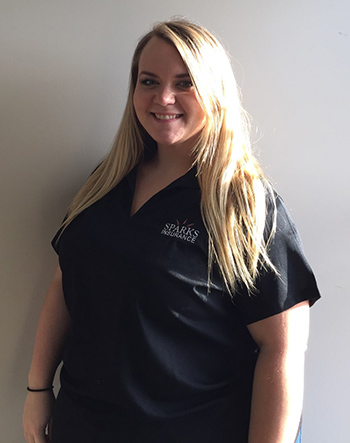 Lakyn Hawn
Mommy, Traveler, Receptionist
Lakyn is wife to an amazing husband of 2 years, and enjoys spending time with him and their 2 month old daughter, Kimber. They like to go target shooting, swimming, and kayaking. She's been a Receptionist in insurance for 4 years, and will be attending class soon to sell insurance as well.
Need an insurance quote? Get in touch!
Access quotes from America's most trusted insurance carriers. It's comparison shopping at the click of a mouse.