Our Team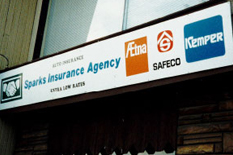 Sparks Insurance is a family owned business established in 1983 by Randy Sparks. Randy started the business initially in the garage of his home at the age of 24. Randy got into insurance after seeing the value of people helping each other share the everyday risks of life through shared resources. He realized that insurance is simply pooling community funds together to have resources to help those who have a sudden financial need.
Sparks Insurance values faith, family and community. We want to make a difference in the communities we insure by acts of service, generosity, and showing people that we care about them as individuals. We will be guided by a higher standard based on the scripture that says- "let your light so shine, that they may see your good works and glorify your Heavenly Father".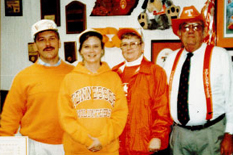 We picked Knoxville & East Tennessee as our home office location because Randy comes from 4th Generation Knoxville roots. We love the people of East Tennessee and all it's about. It's also cool to be a part of seeing the "old South" transform to "The New South" as many people from all over the nation and other nations move to east Tennessee to bring families or retire near the lakes and beautiful Great Smoky Mountains. Tellico Village, Rarity Bay, and Dollywood have brought much attention to the beauty of east Tennessee.
Since then we have grown to multiple locations and are committed to helping our community by offering competitive products,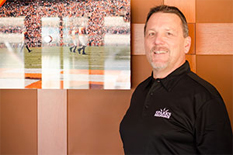 honest and fair service, and showing clients we care about them as individual people.
Our goal is to provide quality service that will keep you happy for many years to come. Our highest achievement is when we earn the trust of your children and grandchildren.
Be sure to "like" us on Facebook so you can see what the Sparks Insurance staff it up to.
---
RANDY SPARKS
Enjoys mission trips, motorcycles, Founder and President of Sparks Insurance
RandyKSparks@hotmail.com
Randy started Sparks Insurance 32 years ago. He has six children ages 15 to 34 with his wife Debra along with two grandchildren. They attend NorthStar Church. Randy enjoys mission trips to Central America, riding his Harley Davidson, biking, swimming, hiking in the Smoky Mountains and the Gulf Coast beach. He has never been a big fan of cats but somehow, his sweet wife Debra convinced him that they needed two cats. Randy is sure one of the cats "Harley" is a dog in a cat's body.
---
FAYE BEAN
Love of sports, the lake, and Customer Service Agent
Faye@SparksInsurance.com
Faye has been with Sparks Insurance for 29 years. She enjoys writing new auto and home accounts and getting to know her clients. Faye has been married 53 years and has 3 married children, 6 grandchildren, 2 great grandchildren, and 2 dogs. She enjoys sports of all kinds including pro golf and college football following Tennessee and Notre Dame. During summer and fall, she spends time on Cherokee Lake enjoying beautiful views and fellowship from her camper. She is very active at her church, Oakwood Baptist. She sings in the choir, serves meals, and leads her Sunday school class working the bingo nights to raise money for the Senior Citizens in the church for special trips and outings.
---
SHEILA RADFORD
Grandmother of 2 sweet boys, Customer Service Agent and Bookkeeper
Sheila@SparksInsurance.com
Sheila has been with Sparks Insurance 24 years working as bookkeeper and agent. She attends Oakwood Baptist Church where she has had the pleasure of being Director of Sunday School, sings in the choir and signing to music. She enjoys spending time with her grandsons and husband Steve. They have been married 34 years and love camping with all of the family. She is also the mother of 2 sons, Scott and Josh. She finishes out her family with 2 dogs, Carly and Gizmo, Whiskers the cat, and Spot the lizard.
---
AMBER BLAIR
Photobook maker, TV junkie, and Customer Service Agent
Amber@SparksInsurance.com
Amber began her career at Sparks Insurance in 2004. As a young child she enjoyed coming to work with dad and learning how the insurance agency worked. She is married to her best friend and has a handsome three-year old son, Josiah. She enjoys volunteering at OneLife Church and serving her community. She loves trips to the beach as well as visiting the beautiful Smoky Mountains. She is a huge fan of the Tennessee Volunteers and loves when football season is in full swing. She also has a dog baby, Porkchop that will always think she is the baby of the family.
---
MADDY LONG
Dog Person, Foodie, Receptionist
Maddy@SparksInsurance.com
Maddy joined the Sparks team in 2015. She attended Hardin Valley Academy and graduated early. She is married to her high school sweetheart and has two beautiful step-daughters Rebecca and Alyssa. She also has a lab mix dog, Hank, who is her best friend in the world, and a kitten, Patsy. Maddy likes to spend her summers by the pool, camping, or on the lake fishing. Regardless of what she's doing Maddy prefers to do it with family. She is a huge movie buff and can quote every line to her favorite movie.
---
JOE NUNNALLY
Avid bowler, retired twice, and Auto Insurance Agent
Joe@SparksInsurance.com
Joe joined the Sparks team in 2012. He attended college in 1961 at the University of Tennessee and Maryland. He was licensed in insurance in 1966 and started his own business in 1970. He and his wife Becky worked together in their agency for 30 years before he sold it. He and Becky have two sons, Todd 44 and Shawn 39. He has one daughter-in-law and 4 grand dogs and 2 grand cats. He is a devoted bowler averaging between 190 and 200. Joe is a news talk radio and TV enthusiast and loves to spend time expressing his opinions.
Need an insurance quote? Get in touch!
Access quotes from Tennessee's most trusted insurance carriers. It's comparison shopping at the click of a mouse.